10 More of Your Happy Cat Stories
Sketching their various moods and postures, Leonardo da Vinci included cats in at least eleven of his masterpieces. One of the most famous is with the Virgin Mary, a child and a cat, of which he said, "The smallest feline is a masterpiece."
It's not hard to understand why our FELIWAY family will agree with these sentiments.
In addition to our previous tales, here are 10 more of your Happy Cat Stories that prove that you think that your cats are a 'masterpiece'.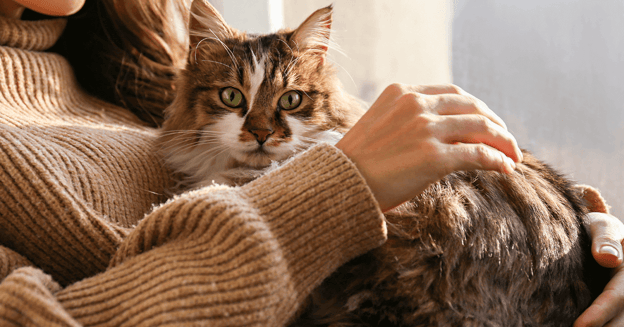 10 More of Your Happy Cat Stories
1. She'll Never Be a Lapcat…
Sasha was a nervous young tuxedo cat brought into Battersea animal shelter. Her life was chaotic – living with other older and bigger cats – and it was decided, for her own good, that she needed an operation to bring her impending motherhood to an end. She was both physically and mentally scarred, but her new pet parents were determined to give her a safe and loving new home.
"She'll never be a lapcat, they said." How wrong those predictions were – with time, a lot of patience and the help of FELIWAY, Sasha is now part of a loving family and loves nothing more than snuggling up.
2. From Reluctant to Forever Home
It took this pet parent over 3 weeks to coax Felix into gaining her trust. Feeding him on a regular basis led him to get closer to being stroked. This was followed by venturing into the house for his favourite food and some water, then he began to settle on the sofa for a nap.
This was the start of a beautiful friendship and 3 years later, he has developed his own character and is more confident with other people and cats. He found his forever friend and forever home.

3. Cutest Neighbourhood Cat
Ernesto and his pet parent met 7 years ago while he was wandering around the neighbourhood and they instantly became friends. Their bond grew but as he had a collar, his new friend suspected he already had an owner.
Despite Ernesto spending most of the day in his adopted new home, the family felt they had to send him out at night to go back to his real home – it was heartbreaking for them! After a while, Ernesto lost his collar so his new friend took him to the vet to have his chip checked.
Nothing came up! A few days later, he was neutered and chipped with the details of his newly adopted home. They subsequently discovered that Ernesto had come from a family in the neighbourhood who did not care about their cats. Now he's inseparable from his new human family.
4. The Runt of the Litter Now Rules the Roost!
From day one, little Layla was a nervous cat. She was the runt of the litter and had to be taken to her new home earlier than normal. She spent two days hiding under a bed with her pet parent's daughter lying on the floor next to her saying "I'm just making sure she's OK Mum."
As Layla ventured out, she grew in confidence and if her new family had to leave her for any length of time, they made sure to have FELIWAY Diffusers in all her favourite places. As she now rules the roost, this turned out to be every room!
Layla has grown into a friendly and much loved older lady who knows how to get her own way – especially when it comes to treats.
5. Scared of Her Own Shadow
A skinny, frightened cat appeared in a garden and just stared at her future pet parent. Knowing nothing about cats they were advised not to feed her or she would stay. But incapable of resistance, her kindly new friend took her in.
The cat was scared of her own shadow and would even jump if a bird flew nearby. No one came forward to claim her so her new friend became her new pet parent.
Four years later, Pixie has put on weight, has a lovely shiny coat, and loves to play with her adopted grandchildren. It's likely she was abused before as she still gets frightened of visitors and will never leave the garden or go out of the front door. We love knowing that Pixie found her forever home!
6. Rexie the Feline Dinosaur!
Rexie was abandoned by his feral mum and could be heard crying desperately outside. A kind stranger started to feed him by syringe around the clock but at just 5 weeks old, Rexie began to lose all of his fur.
Only his head and face were spared the fur loss, and his little body meant he wobbled around like a dinosaur as he walked (hence his name). He had zero catskills and was a very clumsy kitty.
However, his new owner credits the help of FELIWAY and lots of love that has allowed little Rexie to thrive! He has transformed into a handsome boy and a loyal companion. He even carries a little toy sheep around with him wherever he goes.

[H2] 7. From Hard Times to Loving Family
Georgie was a streetcat who took months to trust his new owners after being rescued. In time, he became best friends with his owners older cats, but they both sadly passed away within 6 months of each other.
Georgie struggled cope and became depressed, which led his pet parents to adopt Nala. The two are now inseparable, with Georgie washing Nala, playing with her even allowing her to comfort feed off him.
During lockdown, he became a cuddly lap cat and his owner would look forward to returning home from their hospital shift for their daily dose of Georgie. After a rough start to life, he's now a loving cat that spreads joy!
8. He Used One of His Nine Lives!
Lunar was just a young boy without a mother when his owners took him in. A beautiful white kitten, he was lively and loved to play.
On his second birthday, he had his breakfast and a few treats, before being let out to play. That was the last his owners would see of him for a week. Sadly, Loony Toons (aka Lunar) had been run over by a car; he managed to get himself back home despite having a broken pelvis!
He had thankfully survived and, two years later, is now an indoor cat (on vets orders) but is loving life as a spoiled little snowball.
9. From Cairo With Love
Lockdown was a difficult period for people and animals alike. Thousands of cats were thrown out onto the streets in countries across the world.
Hana was one of these cats – a young 18 month old male, rescued from the streets in Cairo during the pandemic. A local cat charity looked after him and transported him safely to the United Kingdom.
There, he found loving pet parents who say he's now a typical teenager – sleeping all day and having marathon parties at night! He is submissive to his 18-year-old sister and blinks at her politely, gives a few nose nudges, and sits like a guardian at the front door.
10. Birthday Promises!
Nero is a 10-month-old black domestic short hair. Rescued as a kitten in unfortunate circumstances, he seemed happy full of joy in his new home – jumping, playing and eating like a champ!
But when Nero turned 6-months-old, he woke up one morning unable to walk. His owners rushed him to the vet and there he was diagnosed with a form of polyneuropathy. This means that he loses the ability to walk every few weeks and has to be carried, hand fed and taken to the bathroom.
He no longer has the ability to jump or walk normally, but all the extra attention has made him the most loving and accepting kitten. His owners say that FELIWAY has really helped to keep him calm when he loses the ability to walk, as he gets confused and stressed.
Due to his polyneuropathy, Nero has a shorter life span than other cats, so the plan is spoil him rotten and give him the best life a cat could possibly have. His owners are really looking forward to his first birthday now!
Our cats truly bring love and comfort to our homes, even when they are sometimes a little sad. These cats may not have not been sketched by Leonardo da Vinci, but we hope these inspirational stories brought some sunshine to your day.